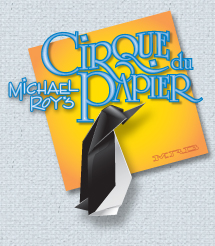 People talk about
Michael Roy Baldridge.
If Interactive Strolling Performer & Origami Entertainer/Artist, Michael Roy has performed close-up origami, or a stand-up show, or juggling entertainment at your special event and you would like to talk about him or to him just send an email to: michaelroy@earthlink.net
Or better yet, pull out the fancy stationery and whip out a wonderful review of Michael Roy's work. We would love to hear your accolades or aggravation.
Now Talk to People
Who will talk to YOU about Michael Roy Baldridge.
Want more detail? Click on the "REFERENCES" button below to download a list of folks you can contact directly who have hired Michael Roy.
Kentucky Derby
"Michael, Just wanted to drop a quick note and say THANK YOU for being a part of Derby 142. We enjoyed having you and I think your services added a unique experience for our guests. I hope you enjoyed your time at Churchill and if there is anything I can do for you going forward please do not hesitate to let me know. Thanks,
Jared Ellis
Event Manager
Churchill Downs


---

ATD 2016
International Conference & Exposition Hemsley Fraser Group Ltd Booth
(Denver. Colorado)
" We really enjoyed having you there and your artwork was certainly a real draw so thank you for coming along with us. I have to say, I received a number of very complimentary comments about how you handled discussions with our prospective clients at the booth and your general professionalism (which far exceeded some of our prior experiences!). Our CEO, Todd Turner has a couple of your creations proudly displayed in his home, so he's clearly a fan too! Thanks again and needless to say, we'll certainly bear you mind for future events."
Ben Clarke
Customer Experience Manager
Hemsley Fraser Group
MGM Resorts International Client Party
"Thank You very much Michael, we were really happy with the event outcome in addition to your services!  Hopefully we will be in touch again for another event here in NYC.!"
Amanda Pierce
President & Director of Events
VAvoom Events

---

Cirque du Soleil - Luzia Chicago Premier
"It was such a pleasure having you and Diane! You were so nice, professional and easy going considering it started pouring rain! People really appreciated your artistry and so do we! We hope to work with you again soon!"
Fritzi Luca
Event Manager
Gold Sky Productions

---

Skylar's Bat Mitzvah
"I'd be thrilled to work with you again when the opportunity arises. You and Dylan did a great job, and I'm really impressed with your artistic skills as well as your ability to engage with the kids. Thanks for everything you did and continue to do!"
Rachel Hoffberger Shaw
Wedding Consultant / Event Planner
Plan It Perfect



American Greetings
Inspirational Team Meeting
(For Artists & Writers)
". . . you gave an inspired performance!
I appreciate your time and talent."
Sheila Coughlin
Managing Editor
American Greetings World Headquarters

---

NES [Company] 9th Birthday Party
"Hi Michael, I'm glad you had a good time even though you were working! We definitely try to make the evening enjoyable for everyone and your talents certainly added a new layer of interest and uniqueness to the event. I appreciate your flexibility in working with our group!"
Karen Maude
Director of Human Resources
NES Associates, LLC
Marietta College Involvement Fair
"We had Michael do origami beside our table at our campus-wide involvement fair. The whole freshman class and many upperclassmen (upwards of 400 people) were there and everyone was excited and enthralled when passing by to see Michael at work. There was always a line of people throughout the entire three hours who wanted to get their very own origami animal. Michael was very sociable to all who came by and always engaged in conversation with those waiting in line. With all of our campus organizations and clubs and many community partners present, there was a lot for students to take in, but many of them stayed by our table for a noticeably longer time because they were so engaged and interested with the origami being done right in front of them. Michael provided origami animals to as many students as he could throughout the whole time of the fair, but just as many would have loved if he could have stayed longer so they could get their very own. Throughout the event, students were already asking if we would be bringing him back. We were beyond pleased with Michael's work and wish he could have stayed even longer."
Mandee Young
Pioneer Activities Council
[the main student programming board]
Marietta College
Marietta Ohio
Corporate Cocktail Party
@ Columbus [Ohio] Museum of Art
"You did a fantastic job and I have continued to receive many positive remarks from people who got to experience your magic. I will complete the review today."
ROBERT'S REVIEW IN GIGSALAD.COM
"Unique and artistic entertainment!
Michael and his team did an excellent job at our recent corporate event. All of our guests were amazed at Michael's origami skills. Plus they all have a special memento from the evening. Thank you, Michael, for bringing your unique talents and artistry to our event!"
Robert Malench
Event Coordinator
NiSource
Columbus Ohio

---

"Take Off Pounds Sensibly"
TOPS State Convention - Recognize Winners for Weight Loss

"You were a big hit."

Tana O'Donnell Take Off Pounds Sensibly
Easter Monday Egg Roll
"You were such a smash, we hope to have you every year for this event!"
Mary Lintern
Event Coordinator
James A. Garfield National Historic Site
Mentor, Ohio

---

Kent State University WinterBlast
"Thank you for participating in WinterBlast! The students loved the origami and watched you perform all night. Your little "amphitheater" area in the corner was perfect! We saw around 2,000 students at the event and they had a great time thanks to your help. Thanks again! We look forward to working with you in the future."
Rebecca Kapler, M.Ed
Assistant Director
Center for Student Involvement
Kent Student Center

---

Library Program

"Michael Roy, We have received positive feedback from your program. Patrons were quick to outreach us and let us know how much your program meant to their day and week. Thank you for such an exciting program."

Donald Harmon

Adult and Multimedia Services


Wadsworth Public Library



College Grad Party
"I think everyone enjoyed you being on-board with us Saturday night [ for college grad
party ]. Thank you for making special gifts for each person and for my earrings.
Again thank you for your performance. We all enjoyed it very much!"
My Best,
Linda and John
The Retro Rider

---

University Park Art Fair
@ Grace Park
"Hey, this is great! You're back again this year! I came to this art fair last year and I knew what I would see, just the usual. But then there was you! This is great; definitely unique. I still have the elephant that you made for me last year out of a map. It's displayed in my home. What can you make for me this year? It's gotta be made out of a map!"
comments to Michael Roy from a guest
@ University Park Art Fair at Grace Park

---

University Park Art Fair
@ Grace Park
"We came by last year and you worked your magic for my children. They saw that you were here again and had to come over."
comments to Michael Roy from a guest
@ University Park Art Fair at Grace Park

Hauntaquarium
[The following is a note to Bob Durante of
Zap Entertainment who coordinated
Michael Roy's appearance.]
"Hi Bob!
I just wanted to pass along a big THANK YOU to you, Michael, and Bill for helping to make our event a great success! Our numbers were better than last year and on top of that we heard many compliments from our guests about how much fun they had and what a great event it was! We couldn't have done it without you!

It was also a pleasure working with you all, I can't wait until next year, but of course will keep you all at the top of my list for other events that we may have. Thank you again!"
Amber Walden
Production Coordinator
Greater Cleveland Aquarium

---

Mother's Day Brunch
" You were great . . ."
Martin J. LaMalfa.
Senior Vice President
LaMalfa
Summer Reading Programs
(@ all Lexington Kentucy Libraries)
"Everyone that I have spoken with has raved about the programs."
Best wishes,
Toy Lancaster
Coordinator of Children's Services
Young People's Department
Lexington Public Library


---

New Bike Party with
Chinese New Year Theme at
Chi-Town Harley-Davidson &
Phantom Harley-Davidson
"Michael,
It was our pleasure to have you perform at both dealerships! You did an outstanding job."
Thanks!
Diane Tragos
Marketing
Chi-Town Harley-Davidson
Tinley Park, IL
Right to Read Week Celebration Assembly Programs
"Thank you so much for your visit to St. Dominic last week. Your performance was unique and fun and had many exciting surprises for the students. The upper grades really enjoyed making their own pieces and, like I expected, that led to quite a few students wanting to check out origami books from our library. I asked the kids this week what they thought of your visit and I got many "awesomes"! One student was very impressed with how fast you could "rap!" Your visit was the perfect ending to our Right to Read Week celebration."
Mrs. Chris Cook
Librarian
St. Dominic School


---

Origami in the Garden
@ Morton Arboretum
" . . . we will highly recommend you if you need any references, all the feedback I got was great! Thanks again!"
Gina Steele
Special Events Coordinator
The Morton Arboretum
Ingenuity Fest Cleveland
"THANK YOU for your important contribution to this year's Ingenuity Festival. The Family Village was a huge success due to your hard work and creativity. I look forward to working with you in the future!
Have a wonderful year!"
Best wishes,
Julie Goldstein
Director of Education


---

Portage
Animal Protection League Fair
" We would like to thank you for your outstanding performance and creative animals that everyone enjoyed at our Portage Animal Protection League Fair. Everyone stopped in to see you and enjoyed taking home an "animal" for their future enjoyment.
Your booth was like a magnet that drew people of all ages. We sincerely hope you will be available to help our event be even more successful next year. I speak for the entire board and committee -- thank you."
Sincerely,
Barbara Kornac, C.M.P.
Executive Director
Portage Animal Protection League
Weekend of the Pooka
"Michael Roy, So very glad your going to be with us again this year! You have been big part, of the event for 6 years now! Everyone looks forward to seeing you!"
Sandy Spinks
Bedford Arts & Culture Liaison
Chair, Weekend of the Pooka

---

Company Employee Picnic
TruBridge, Inc.
"Hi Michael – I just wanted to say "thank you" for entertaining at the picnic. Everyone had a great time and I have heard nothing but compliments from everyone. It was a pleasure meeting and working with you. Thanks again."
Cindy Molesky
Licensing & Contracting Coordinator
TruBridge, Inc.

---

Halloween Party For Bendix Employee Children & Grand Children
"Michael – thanks again for everything on Friday – you were a big hit!"
Kierstin A. Hilditch
Bendix Commercial Vehicle Systems, LLC
"Passport to Paris" Theatre Fund Raiser
"Thanks Michael Roy. We have heard nothing but good things about your entertainment and the entire event. We thank you for entertaining our guests. Cirque du Papier added a unique activity to the evening that our guests very much enjoyed. It was a splendid evening and thankfully the rain held out for the event."
Jennifer Leinweber Ritz
Rabbit Run Historic Barn Theater

---

Private Party for Book Launch
"We were very pleased with Cirque du Papier. Michael arrived early, set up on time, and was engaging and funny. He entertained over 100 people over the course of a few hours and made lasting impressions on many of us. I would definitely recommend him for a corporate party like ours, or any other gathering in which roaming entertainment is appropriate."
Amanda Cassady-Schweinsberg
Lange Accounting Group LLC


---

Lexi's Bat Mitzvah
"I am so glad you were a part of the festivities! I know the kids loved your work and many adults too."
Cindy Atler
Bay Pointe Golf Club
West Bloomfield, Michigan
Together For Nepal:
A Family Celebration To Benefit Earthquake Victims
(@ The Beachland Ballroom)
"Thank you Michael and Diane for coming out and thoroughly entertaining the crowd!"
Stacy Kern-Fowler
Booking Coordinator
Flower Entertainment
Wickliffe, Ohio

"After watching you fold I now understand why people spend so much time watching me work."
Ron Fowler AKA Flower Clown
Featured Clown & Balloon Artist
Flower Entertainment
Wickliffe, Ohio

---


SD&A Client Party
(for Attendees of League of American Orchestras 2015 National Conference in Cleveland, Ohio) "Michael,
It was really great to have you at our event! Our guests thoroughly enjoyed your wonderful origami and other entertainment. Each year we try to think of new ways to have fun at our event and you were a hit. Many thanks! MJ"
Mary Jane Avans Vice President, Busines
SD&A Teleservices, Inc.


Atlanta, Georgia
Bat Mitzvah Celebration
@ Comet Ping Pong Pizza
"Thank you! Madeleine thought you were wonderful and is proudly displaying your creations on her desk. My mother was very amused by your teaching her how to make a "snowball."
You helped make our event even better."
Suzanne Yelen
Mother
Washington, DC

---

Employee Appreciation Picnic
@ the Akron Zoo
"Michael Roy was very entertaining. Both the employees and their families enjoyed the paper animals. I would definitely recommend Michael for future events. Kids loved it!!!"
Yolanda Scott
Human Resource
US Foods
Twinsburg, Ohio
Adult Dinner Dance
"Great Job! Client loved you! [ Shoreby Club • Bratenahl, Ohio: Social Harborfest Party - Adult Dinner Dance ] Here's a special bonus + tip from client!
'Til next time, Mary
Mary Faktor
Faktor's Talent Network

---

Akron Aeros Game
"We did origami in school, but it was not like this!"
Comment from Jr. High boy
@ Akron Aeros game


---

Baby Shower Gift
"Thank you so much for your kind gift. The Origami Strawberry looks very cute in the baby's room."
Amy, Brad, and Mary Rose
Fort Lewis, Washington


---

4th Gala Arts Alive!
Community Arts Awards Celebration
"Thank you so much for everything Saturday night! The centerpieces turned out beautifully and everyone enjoyed interacting with you at the event."
Jill Bacon Madden
A benefit for the Akron Area Arts Alliance
[Michael Roy did the centerpieces as well as entertaining at the event.]
Zap Gigs
"Mike it has been a pleasure working with you each time you have done something for us it has always been in a professional manner and your response from customers is always positive. We do appreciate your good work"
Bob Durante
Zap Entertainment

---

Summer Arts Camp
"Your performance was wonderful.
Thank you so much"
Claire Morey
The Butler Institute of American Art
Youngstown, Ohio

---

Ingenuity Fest Cleveland
"It was a pleasure working with you again at the Ingenuity Festival. Thanks for all your hard work and for helping to make Ingenuity the success it was! My daughter and I are going to get a-hold of some origami paper - we were inspired!
Best,"
Julie Goldstein
Director of Education
Ingenuity Fest Cleveland
Cleveland, Ohio
Bat Mitzvah
"Happy to hear that everything went well at the event [ Bat Mitzvah @ Marriott City Center, Downtown Pittsburgh, November 2010 ]… they must have really liked you to have you stay 2 additional hours.  Thank you for doing such a great job! Thanks again for working with us – we look forward to working with you again soon."
Linda Venezie
Accounting Manager
Talent Network, Inc.
Pittsburgh, Pennsylvania

---

Bar Mitzvah
"This is so cool!"
Much repeated comment by teens & adults overheard @ Bar Mitzvah, September 2008
Beachwood, Ohio

---

Bar Mitzvah
"Hey, is this that oregano?"
also overheard
@ Bar Mitzvah, September 2008
Beachwood, Ohio
Editor's Note: [ The man was just kidding. ]
Building Grand Opening
"Hi Michael,
. . . the crowds certainly enjoyed your entertainment. We are going to have a Cancer Survivor's Day event in September and I will be sure to contact you for that weekend event. Hopefully the weather will be better! We had such good comments about your services and I hope you can rejoin us this fall. Thanks again for making this event such a success!"
Nancy A. Jones, CMP, CMM Program Director
OSUCCC/James Cancer Hospital and
Solove Research Institute
Office of Conference Management and Planning
Columbus, Ohio

---

Library Summer Program
"Thank you for performing your origami program at the Lakewood Public Library this summer. The Madison Branch Staff gave you a glowing review."
Kathryn and the Children's & Youth Services
of the Main and Madison Branches
Lakewood Public Library
Lakewood, Ohio

---

Annual Return of the Buzzards
"Thank you – you did a great job. I look forward to sending these [origami buzzards] out to the media.
Thanks again"
Dan Crandall
Marketing Specialist, Events & Promotions
Cleveland Metroparks
Cleveland, Ohio
Library Fall Program
"Michael Roy Baldridge made it look so easy. His display was very enchanting with a family of penguins here, and a beautifully sculpted horse there. It was even topped off with a delicate, peaceful dove. And on his beret? A whimsical, orange, goldfish. But in reality, origami is a science of valley folds, mountain folds and inverse folds. Michael Roy Baldridge attempted to teach this delicate art to 18 Stow-Munroe Falls Public Library patrons on October 6. Luckily, I was one of them. Originally, I was just going to watch, but I couldn't resist trying what Michael was teaching. When he passed beautifully colored sheets of paper around the table, I was hooked. I didn't even know what we were going to make, but it didn't matter. First, using the basic types of folds, we made a very simple bird. My confidence began to grow. Next, Michael announced we were all going to make penguins and he held up one as an example. Everyone was very excited, but inside I secretly wondered if we could do it. Penguins looked pretty hard. But, we all started at the same spot and one fold after another our penguins began to look pretty good. It's been a little longer than two weeks and my penguin is still sitting here on my desk. Michael's origami class consisted of participants ranging from 5th grade to age 70, and had both men and women. But as we left that night we all had something in common besides a small black and white penguin. We all had a feeling of accomplishment. Thank you, Michael."
Ann Malthaner, Head Of PR
Stow Munroe Falls Public Library
Stow, Ohio
Ohio State Fair
"Michael - You're always a pleasure with which to work."
Mark Sparks,
Onsite Entertainment Manager
Ohio State Fair
Columbus, Ohio

---

Ohio State Fair
"It has been a pleasure having you perform here."
Brett Chance,
Assistant General Manager &
Entertainment Director
Ohio State Fair
Columbus, Ohio

---

Annual Fall House Party of
Wine & Dinner with Family & Friends
"Michael - Everyone enjoyed you. They have all expressed how much fun they had meeting you and experiencing your craft. I can't thank you enough and I am so happy that you were a part of our party."
David Cook,
House Dinner Party Host
Toledo, Ohio
"Eggs, Paws, and Claws"
"We enjoyed having you at the Zoo. Your talent is very unique and it is not something you see often. Kids seemed to love it, which makes it a great fit for our audience. We would love to have you back at the Zoo sometime in the future. We have a lot of events happening this year and I am confident we will be able to find a time for you to come back."
J. Hotaling
Columbus Zoo
Powell, Ohio

---

Baptism Celebration Party
"Thank you Michael for an extravagant evening filled with amazing folding!
Every guest from 4 years old to 80 years old found awe and amazement in your abilities.

Look forward to seeing you again."
Nancy Westrich
[Coordinated private party
@ Signature Country Club]
Solon, Ohio

---

Spring Gala
"Michael, Thanks so much for the delightful entertainment this evening."
Anne Cornell, Artistic Director
Pomerene Center for the Arts
Coshocton, Ohio
Diversity Day
"Diversity Day was a huge success and your demonstration strongly contributed to how the day was received by our students and faculty"
Frank E. Kaufman, Director of Student Life
Community College of Allegheny County
Boyce Campus
Monroeville, Pennsylvania

---

Reception @ JPMorgan Chase Investment Bankers Conference
"Michael performed for my crowd of 200+ top executives [in San Francisco] and he was the hit of the event! Very professional, flexible and truly enjoyable to work with. He is first class all the way. Thanks again Michael. Sure hope to have the opportunity to work with you again."
Rosie Gonzalez,
Global Meeting Planner & Assoc. Project Manager
Takeda Pharmaceuticals International, Inc.
Deerfield, Illinois

---

50th Birthday Party
"I hired Michael to entertain for my 50th Birthday Party and he was a big hit! Everyone was amazed what he could do with one piece of paper. Trying to guess what the finished piece would be was fun and there were alot of OOOH's and AAAH's at the final outcome. He interacted well with the guests and everyone went home with one of his creations Everyone wanted to know where I found this guy!"
Cheryl M.
Bedford, Ohio
7th Birthday Party
"Michael was a ton of fun! He arrived on time, was completely prepared and ready by the time guests arrived--and put on a GREAT show! I had a group of young boys who normally have an attention span of 10 minutes--he kept them for well over an hour with hands on activity, juggling and other jokes, demonstration, and each guest received a specialized animal favor! He had an incredible display to show before and after which even adults were amazed! I would highly recommend Michael for your event as it was unique, fun, and something to talk about! Great guy, great service!"
Susan O.
Mother/Birthday Party Coordinator
Hudson, Ohio

---

March Arts Day
"Thank you for participating in Bovard Elementary's March Arts Day! You were very kind in the consessions you made in order to make it happen. My daughter, Maya, loved your workshop as did so many of the students. I have had many wonderful words from the adult volunteers as well! Maya keeps telling everyone how you rhymed at the beginning "forever and ever.... like 500 words!"
Misty B.,
Artist Coordinator for:
Bovard Elementary School PTA
Greensburg, Pennsylvania
High School Prom
"Thank YOU! The kids thoroughly enjoyed your expertise and it was a great addition to the evening [High School Prom ] !!"
Patricia A. Finley,
Student Activities Coordinator
Stanton Middle School
& Parent Committee Head for
Roosevelt High School Jr-Sr Prom 2011
Kent, Ohio

---

High School After-Prom
"Thanks again for your services the kids were very entertained : ) "
Lisa Huml,
Coordinator
Nordonia High School After Prom
Macedonia, Ohio

---

Upper Artlington
Labor Day Arts Festival

"We enjoyed having your art at the

Festival . . . We received many positive comments about you and patrons enjoyed themselves."

Lynette Santoro-Au,


Arts Manager




Upper Artlington, Ohio
Grand Opening of Yark Nissan
& 30th Year Anniversary
"What a great addition to our Grand Opening event! His paper display was more of an art piece than a creation. The kids loved the paper animals! Thanks!"
Warren Vess
Yark Automotive Group
Toledo, Ohio

---

Sundaes on Thursday
Ice Cream Social on Medina Square
[The following is a note to Sue Durante of
Zap Entertainment who coordinated
Michael Roy's appearance.]
"Sue, Just a quick note to say a BIG THANK YOU!! Michael Roy's performance at our Ice Cream Social was perfect. I heard many positive compliments throughout the evening about him. He was really easy to work with, which I truly appreciated. With such a big event it is always nice when the entertainment can be counted on! Michael Roy was outstanding, he really delivered! It was pleasure to work with you and I truly appreciate the professional manner in which you conduct business, it made my job much easier. Thank you again!"
Patti Hetkey, Public Relations Coordinator
Medina County Board of Developmental Disabilities
Medina, Ohio
Business Workshop
"Michael was an excellent addition to our business workshop. He was flexible with including custom talking points to match with our overall theme and was very knowledgable about origami. It was an engaging and fun experience for everyone involved. Thanks"
Anthony Giordano
Marketing & Business Development
MEC Global
New York, New York

---

Summer Reading Program
"Your origami program was much enjoyed by all who attended. We would love to have you back again. I have shared your information with our other branches as well."
Angela Young, Youth Services Librarian
Lorain Public Library System
North Ridgeville Branch Library
North Ridgeville, Ohio

---

Christmas Party
"Michael was wonderful the children loved him and the parents were entertained as well. I would highly recommend Michael and will keep him in mind for future events."
Andrea Siroky
Entertainment Coordinator
Grant Street Group
Pittsburgh, Pennsylvania
Annual Teen Volunteer Kick Off
"We just wanted to tell you that last night was absolutely amazing, and you did a really great job! The teens really enjoyed doing the origami with you."
Melissa Zigart
Friendship Circle
South Euclid, Ohio

---

School Carnival
"He was perfect for our school carnival. Michael was professional, on time, kind and willing to be flexible. Both kids and adults hung around to watch him work! It was also very nice that many people got to take home complicated and interesting paper animals. Great work, Michael!"
Maureen Drinkard
Parent Coordinator of Entertainment
Uniontown Elementary School Carnival
Uniontown, Ohio

---

Golden Dragon After Dark
"Thanks so much Michael! And Thanks for the Awesome Job!!!! The students really enjoyed and had a great time, which is our main goal. :) Thanks for helping us to accomplish that!"
Mairel Gonzalez
Coordinator
Old Dominion University
Norfolk, Virginia
Chinese Lunar New Year Party
"Michael is professional and extremely talented. Would recommend Michael to family and friends."
Stephany Pham
Oakville, Ontario, Canada

---

Arts Day
"I coordinate the multi-cultural Arts Day programming at St. Gabriel's School in Concord, OH. We booked Michael for our Arts Day in October to present on Origami as part of our Asian culture series & he did not disappoint! He presented to nearly 800 children throughout the day (we had six sessions)--he was professional, flexible, and very entertaining! The children range in age from 5-14 and he found a way to tailor the program to each level--and even the adults in the room were highly engaged! The way he presents is entertaining for children, but he includes plenty of references and humor that are geared toward adults--plus the large scale of his origami is perfect for a larger group. We had no concerns and felt that the program was both educational and entertaining--not an easy task!"
Mary Glauser
Coordinator of Arts Day
St. Gabriel School
Mentor, Ohio
Trucker Appreciation Day
"I wasn't sure what to expect, but Michael Roy was fantastic, he has a mild nature, that people love! Our customers were very happy with his performance, I would recommend him for all ages, very creative artist!"
Debbie Shelton
Public Relations
Travel Centers of America
Lodi, Ohio

---

Company 25th Anniversary Celebration
"Thank you for coming to our event.
We reviewed these events in committee group and everyone loved your performance. I was so proud of having you here.

If we have some events in the future, please come again. Thank you very much."
Aya Wasil
Corporate Planning
Kamco Industries, Inc.
West Unity, Ohio
Arts Explosion
"Michael, Thank you again for your wonderful performance Saturday. Here is the review I wrote for Gigmasters. Words cannot express what an exciting element your show was as part of Arts Explosion. I hope you enjoyed your time in Maysville, and will come to visit again soon.
ROBERT'S REVIEW IN GIGMASTERS.COM
"I cannot find enough superlatives for Cirque Du Papier. Michael was a pleasure to work with. Originally we had planned for Michael to showcase his art as a strolling performer. But as soon as he set up his Gallery of Origami, children and adults alike flocked to see his artistry. He performed nonstop due to the throng of people who wanted to see him. When performance time was over, he graciously agreed to perform until the crowds abated--over 2 hours later-which we happily compensated him for. His engaging style and amazing talent make him a perfect fit for any occasion, and I hope we can have him here again in the future!"
Robert Roe
Maysville-Mason County Arts Commission
Maysville, Kentucky
Wedding Rehearsal Dinner
(@ Luciano's Italian Brick Oven in White Oak, PA)
"Hi Michael,
Thank you so much for the evening. Everyone really enjoyed your entertainment. I will recommend you to anyone who is looking for something unique to add to their special occasion!"
Ruth S.
Mother of Groom
Bridgeville, PA

---

Business Building
Tenant Appreciation Party
Michael,
I'm glad you enjoyed performing at our little shin-dig. Our guests really enjoyed your entertaining them. Hopefully you will get some additional business as a result. Thank you so much for my beautiful giraffe. It is living on my desk as a reminder of the party.!"
Lisa S. Gould
Leasing Coordinator & Marketing Assistant
Munsell Realty Advisors, Inc.
Akron, OH
"Light-UP" Lantern Festival
"I wanted to thank you for joining us again at this year's "Light-UP" Lantern Festival! We heard so many wonderful comments about your origami art from attendees. Thank you for sharing you wonderful creativity and skills!
Again thank you so much for your participation this year. We love having you as a part of the event!"
Leandra Drumm
"Light-UP" Lantern Festival Event Director
Akron, Ohio

---

Sterilite Open House - 15 Year Anniversary Employee Recognition
"We want to THANK YOU! I received SO many comments on your entertaining and your talents! You WOW'd the group! Thank you again and hopefully we will work together again at our next five year open house!!"
Judy Ellesin
Manager, Human Resources
Sterilite of Ohio, LLC
Akron, Ohio
Crow Homecoming
"Michael,
We had such a great time when you performed for our spring gala 3 years ago. What a pleasure to present you again."
Anne Cornell.
Pomerene Center for the Arts
Coshocton, Ohio

---

Waterloo Arts Festival
"Thanks for helping to make the WAF a success this year. We got great feedback and I really appreciate you being a part of it."
Amy Callahan
Arts Collinwood
Cleveland, Ohio

---

Fairy Tales, Fables & Flowers
Soar & Explore
Penguin Beach & Flamingo Key
Opening Weekend
"And thanks to you for really adding a special touch to our events this year! I will be in touch for the future!"
Jen Brassil
Events Coordinator
The Toledo Zoo
Toledo, Ohio
Library After School Workshop
"Approximately 50 students attended this exciting program highlighting the history, science and art of the traditional Japanese paper folding technique of origami. Before trying their hand at the ancient art, participants watched in awe as Mr. Baldridge effortlessly transformed an ordinary square of paper into an intricate sculpture using no scissors, tape or glue. All the while he maintained constant crowd engagement, seamlessly breaking into a sensational display that was a little comedy, a little magic, and a lot origami."

Review from Website
of Seneca East Public Library
Attica, OH

---

Kent State University Flash Fest
(end of year concert)
"Michael thank you - it was a great success and happy you could accommodate us. We will do it again."
Donna Carlton
Kent State University
Kent, OH
Birthday Party
"I'm just so glad everyone seemed to have had a good time. You were indeed a big contributor to this result! So many guests had the same question: "where did you find him?!" - and everywhere I went in the room I found kids playing with your amazing creations, holding onto them like treasured friends. The hotel's event captain mentioned that she was really delighted with your manner in interacting with the children. But everyone loved it. Even the adults joined in the workshop, which was fabulous! We had a few guests over at our house after the party, and a couple of them delicately brought out the impressive pieces you'd given them for all of us to admire. What can I say, you were a hit!

I'm so glad you could join us. Thanks for making the trip and being so accommodating with budget and throughout the day itself. It was a pleasure to meet you and your very sweet Diane. Hope our paths cross again. My best to you both and to Tyler"
Alyaa E.
Mother of Birthday Boy & Head Party Planner
The Conservatory at the Royal Park Hotel
Rochester, Michigan
School Assembly
@ Norton Primary School
"Michael, Your promo card always intrigued me. I'm glad I made the call."
MARY'S REVIEW IN GIGSALAD.COM:
"Paper folding and comic timing extraordinaire!
I booked Michael Roy Baldridge as a closing act for a local school's Right to Read week in March, 2016. Michael thoroughly engaged the audience of 1st to 4th graders with his paper crafting, stage presence and comic timing. Both the teachers and the students were blown away by Michael's alliterative opening. One teacher asked me if he was a poet!"
Mary M. Bird
Norton Branch Library
Akron-Summit County Public Library
Akron, Ohio
Birthday Party
"Thank you so much for Maggie's party. Everybody absolutely loved you and I am extremely mad that I didn't get a chance to talk and hang out with you. I appreciate your poise in the sea of midges that crashed the party, and everyone loved your origami.

Thank you again and I hope our paths cross again someday! I will highly recommend you to everyone."
Andrea Myers
Birthday Party
@ Headlands Beach Pavilion
Mentor, Ohio

---

University Park Art Fair
@ Grace Park
"We would love to have you back - you're always a huge hit."
Jill Bacon Madden
Coordinator
University Park Art Fair at Grace Park
Akron, Ohio